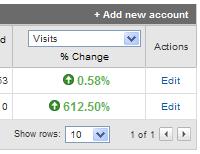 A step by step guide
Google Analytics is a great tool to present statistics on your websites performance. The information is presented well and enables you to dig into quite a bit of detail on where your visitors can from, what they use and what they do on your website.
There are several stages to setting up a Google Analytics account which are described in the following sections.
Gmail Warning
I would recommend you avoid using a Google Account associated with Gmail, or link your account with Gmail. Gmail takes over the account and can make it very difficult or impossible to do some tasks required when managing Analytics accounts.
Sign up to Google
Before you can get an analytics account you need to have a general Google Account. You may already have one you created for another one of Google's services (See Gmail warning on the right). If not, you can create a new account here:
https://www.google.com/accounts/NewAccount
It's quite a simple form. All you really need is an email address. Don't forget to note down the email address and password you used!
Create an Analytics Account
To start the sign up process go to the following URL:
https://www.google.com/analytics/provision
Most of the questions are quite simple. The crunch is at the end where you are given some tracking code. Grab a copy of this for use in the next section.
If you already have an analytics account, you can add extra websites to it (via profiles). For website developers I recommend creating a new account per client. This way the client can take the account with them if they change developers.
Adding your tracking code
You should now have an account and some tracking code. You're almost there!
In order for analytics to work, you need to place the tracking code at the end of every page of your website.
If you have a website developer they should know what to do with it.
Many website designs use a common file to define the start of all the pages of a website. You may be able to use this to quickly add the code to every page.
After adding the code, make sure it is not visible on the page. This may happen if you are using a WYSISYG Html editor. You will need to switch to a plain html mode to add the code.
This code talks to Google Analytics every time someone visits the page, and that's how it all works.
Viewing the statistics
After a while you should see the status of your new account change to a green tick indicating the code is working.
To see the data for your website, make sure your account is selected then click on the "View Report" link for its profile.
Analytics normally only shows data up to a few days ago, so don't worry if there is no data showing. You can change the date range (top right) to see if there is any data captured for today.
Once the data starts flowing there is a lot of information available to you. Here are some of the most interesting bits:
Visits: This is the main graph and it shows how many people visited your website on a given day. The higher the better!
Traffic Sources: A menu option on the left. This shows how people found your website. Was it via a search engine or did anther website refer them to you.
Content: Another menu option on the left. This shows what pages your visitors viewed. So you can find out what's popular.
Enhancing Analytics
Analytics is a very powerful tool. Check out my other articles in the Google Analytics section to help you get the most out of it.