How to add users and share the knowledge
Friends, developers, SEO companies or SEO consultants may want to see how well your website is performing. This is how you give them access to your Google Analytics account.
Make sure they have a Google User Account
A user in Google Analytics is based on a Google Account Users login name, which is their email address.
They may already have one for gMail or another one of Google's services. If not, they can create a new account here:
https://www.google.com/accounts/NewAccount
It's quite a simple form. All they really need is an email address.
Have them send you their chosen email address once they have it.
Adding the User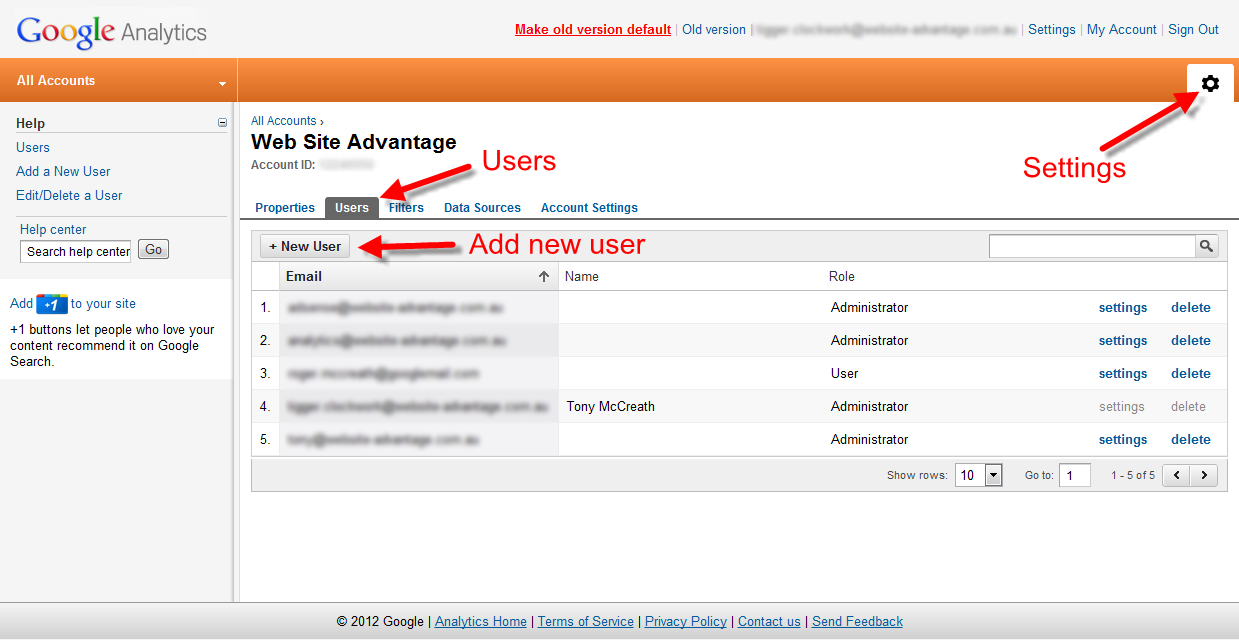 Once you have their email address you can login to Google Analytics and add them as a user:
Go to your Settings page in Google Analytics (login if required)
You may have to then choose the account you wish to add the new users to.
Then click on the Users Tab
This will show all the users currently assigned to this account. To add a new one, click on the Add User link at the top right of the list.
Here you will need to enter the users email address (as determined earlier).
There are two access types. View Reports only is the standard type, and only lets users view the profiles you select for them. If you select this, then make sure you add the profiles you wish them to be able to see. This would normally be the only one.
The other access type is Account Administrator. Selecting this will give them all the control that you have. They can see and configure all the profiles, add users etc.
Once you have filled the form in, click Save Changes. At this point they will be sent an email confirming their new access rights.