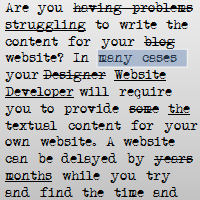 Content is king. Good content is even better!
Are you struggling to write the content for your website? In many cases your Website Developer will require you to provide the textual content for your own website. A website can be delayed by months while you try and find the time and inspiration to write! Why not hire a professional to write it for you and save yourself all that stress and lost time.
A website copywriter is someone who specialises in writing website content that engages your visitors and sells your business. Hiring a copywriter not only means your website will be completed faster, but its content will be crafted to be more pleasing to your viewers.
A local copywriter may cost from $50 to $250 per hour, depending on experience. Like most things the quality tends to go up with the price. There are several tasks you can hire a copywriter for:
Original Content Creation
Content Improvement (Rewording, Rewriting)
Proof Reading (Checking Grammar, Spelling, Style, Punctuation)
Writing a complete new page from scratch may take an hour or so. However, a copywriter can get through more content in their time if they are just proof reading or enhancing it. A copywriter may be able to proof read 20 pages per hour. Where possible provide the copywriter with sources of content to work from. This can speed up their work and save you money. Brochures or fliers can be a great place to start.
Typically a copywriter will first interview you or ask you for a brief about the content you want. This is to help them understand not only what to write, but also the style you want it written in and what you want to achieve with it. The more information you can feed them the better they can get a grasp of what your looking for. From this the copywriter can send you a quote or estimate for the work required.
The writing process may go through a few iterations, where you get to review the content and make comments. The final draft should be completed and ready to publish in just a few weeks. Once you have paid for the material then normally you will have also secured the copyright for it. At that time you can do with it what you please (please check the fine print).
Many copywriters are now aware of SEO and can work with people like me to make sure the content is optimised, while still being highly readable. Sometimes the copywriter will ask you for a list of keywords that you wish to target. Doing some Keyword Research can help you chose the right ones.. Tip: Ask your copywriter to also provide you with a good title and summary for the content they write. This is to control how your content shows up in the Search Engine Results .
If your ready to speed up your websites development, or wish to make your current content more inspired, contact one of these local copywriters. Don't be afraid, they don't bite.
If you're a copywriter or copywriting business in Adelaide, Contact me to be considered for inclusion. It's FREE!