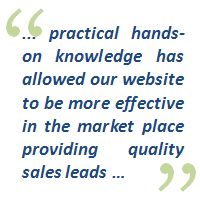 Praise can go a long way
Receiving a testimonial is a great feeling. It not only reassures you that you are doing the right thing, but it is also a way to show to potential clients that you are good at what you do.
This page not only lists some of the testimonials that I and Web Site Advantage have received for my Small Business SEO Support Package , but it's also here to encourage you to get and use testimonials to promote your own business.
in their words...
Get in on the action
Reviews, Ratings and Testimonials are great ways to show potential customers about your track record and performance.
Encourage your clients to write a testimonial about you. A good place to send them is your Google Business Page where people can rate and review your services. You can then re-quote them on your website or other media channels such as brochures and business cards. Just like I have done on the right.
If they are having trouble writing a review then here are some guidelines you can give them:
Explain the problem you had
Explain how we solved your problem
Explain who you would recommend us to
If you have worked with me and liked my services, why don't you Rate & Review My Services on my Google Business page .
(Only ever use real testimonials and ask for permission before publishing them.)
And don't forget to reciprocate the favour. Write testimonials or pass on Free Hugs for Businesses that have served you well. Or share this article with friends or colleagues using the social links below...