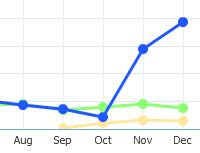 If you don't know where you are, then you won't know where to go.
Tracking progress is important if you continually want to improve the performance of your website.
Each month the Website Progress Report will provide information on how your website is performing across different metrics along with recommendations on activities that should be performed to improve your website. The report can include:
Monthly Report Example
Based on a fictitious company called Best Website Design. This shows the sort of thing you will get out of your own monthly progress reports... Website Progress Report
Recommendations of actions that can further improve your website.
Information on any errors found on your website by Google and other sources.
Visitor Statistics.
Search words that generated the most visitors.
Referring Websites that generated the most visitors.
Goal statistics such as contacts or sales made.
Website popularity data.
Search word positioning in Google's organic search results.
Google AdWord statistics.
The report is enhanced when other services have also been commissioned. The KeyWord Analysis Report enables us to show data related to the important keywords while having us manage your Google AdWord advertising will add a section on advert and budget performance.
Small Business Package
Save money and get more by signing up to my Business Support Package, which includes these monthly website progress reports.
More Info...
Priced From: $250/month (Australian Dollars)