Understand what you need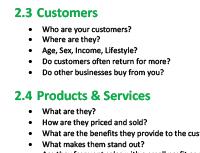 Many beautiful websites are built only to find they don't attract visitors or create sales for a business.
Before designing or developing a website the business owner should think about the true reasons for their website. Is it for sales or just to impress friends!
I have designed this questionnaire with several things in mind:
Gather basic business information needed when promoting a website.
Get a better understating of a business, their products and their market.
Gather information that will support the other services offered.
Make the business owner think about who they are targeting so they focus their websites design accordingly.
Download
Download the Website Marketing Questionnaire (Basic Version)
Download the Website Marketing Questionnaire (Detailed Version)