Ensure your website is Search Engine friendly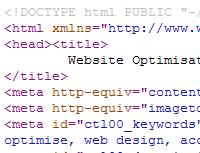 The main point of this website analysis report is to provide recommendations on
Changes that optimise your websites performance with search engines (SEO).
Identify issues or errors that may cause a bad experience for visitors or compromise your website.
Advice on how to promote your website and improve its popularity.
Recommendation from the website analysis report may result in new work for your website developer as well as ongoing work in continually improving your website and its popularity.
Search Engine Optimisation (SEO)
Search Engines frequently visit your website to find out what it's about. The search engines conclusions are crucial to how it decides if your website should show up in particular search results.
The Website Analysis Report looks at your website and provides advice on how it can be improved so that the search engines are provided with the best information possible.
It includes information on changes that should be made to the underlying website design and its content. In some cases the suggested SEO changes can have a major impact on the number of visitors a website receives via the search engines.
Making the changes suggested by the website analysis report will create a solid foundation for all the future work on your website.
Issues and Errors
You don't want visitors to see broken pages and you don't want to leave your website open to attack. This section examines and tests your website to find potential issues such as:
Do search engines send visitors to pages that don't exist?
Are you susceptible to injection attacks?
Does your website use any trickery that may get it blacklisted?
Is the website unnecessarily slow?
Are there links to invalid pages?
Is your website accessible to people with disabilities?
Website Promotion
Website promotion not only creates new sources for visitors but also increases a websites ranking among its competitors. The more important a website is, the better the position it is given in search results.
The website analysis report provides advice and instructions on how to best promote your website.
Pricing
Small Business Package
Save money and get more by signing up to my Small Business Support Package which includes this report. More Info...
Priced From: $550 (Australian Dollars)
Contact me to get more information or a quote. If possible include the address of your current website and fill in our Website Marketing Questionnaire which is designed to help you and us understand your business better with regard to marketing it on the internet.