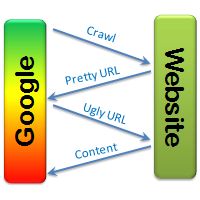 Google's proposal for SEO friendly AJAX
Introduction
|
Pretty URL
|
Ugly URL
NOTE: Google has depreciated this solution and now recommends using other techniques.
This area is JavaScript driven in a way that is SEO friendly. To read the whole article, click on each of the links above. The links dynamically load each part of the article using JavaScript. Even though the content is loaded via JavaScript, each part of the article is indexed by Google, as if each part was on its own page. Start now by clicking on the Introduction. If you don't have JavaScript, you can start here.
| | |
| --- | --- |
| Page Name: | |
| Pretty URL: | |
| Ugly URL: | |
The Ajax Content in Search Results
This confirms the process works. In these results you will see each Ajax page, using a unique title and description and linking back to the page via its Pretty URL.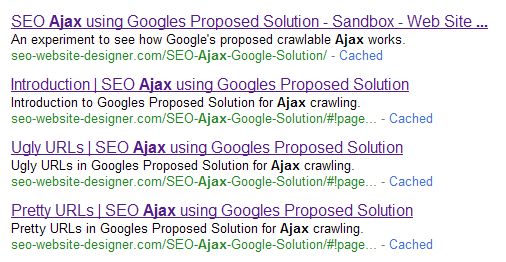 Non JavaScript/Flash Index
This would normally be in a noscript element or hidden/replaced by the Ajax/Flash when it runs. It is to help search engines find all the pages and to let users without JavaScript or Flash view the pages.
The JavaScript Required links use the pretty URLs as they need JavaScript to work so they can dynamically insert the correct pages content. Google will index these, while other spiders will only pick up the base URL.
The JavaScript Optional links use the ugly URLs. As these URLs directly return the content of a page, they are friendly to other search engines and users without JavaScript or Flash. Google states they will ignore ugly URLs in links when crawling.
XML SiteMap
To help the pages get indexed I also created an XML SiteMap of the Ajax Pretty URLs and submitted it to your Google Search Console.