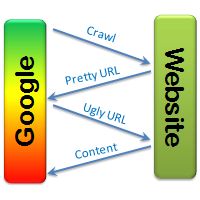 Google's proposal for SEO friendly AJAX
Introduction
|
Pretty URL
|
Ugly URL
Introduction
Google have proposed (and implemented) a Specification to make Ajax applications crawlable. This page contains JavaScript that conforms to that specification so that Google will index the content contained in the JavaScript pages.
Each link above dynamically loads new content into this part of the page and follows the Google Specification so that the content can be crawled.
This page is also designed to let users without JavaScript view the pages and other spiders crawl them.
The same concept should work to SEO Flash files.
XML SiteMap
To help the pages get indexed I also created an XML SiteMap of the Ajax Pretty URLs and submitted it to your Google Search Console.