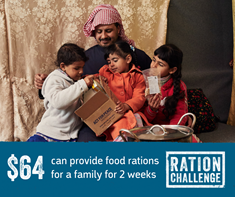 Tony's Ration Challenge - Please Help
On Sunday the 17th June I'll be taking the Ration Challenge and eating the same rations as a Syrian refugee for one week - just a small amount of rice, flour, lentils, chick peas, beans, fish and oil.
I'd love your support - will you sponsor me? By sponsoring me you'll be helping to provide food, medicine and education for refugees AND you'll also be doing me a huge favour, because when I reach $350 I get to add a spice to my food rations all week - flavour, glorious flavour!
It's going to be a tough week but having your support and knowing that together we're making a difference will make it all worth it. You can sponsor me here. Thanks so much.
Sponsor Me Now
.
Enter a URL
Robots.txt:
Missing Pages:
Canonical Site: