Find out what your customers are looking for!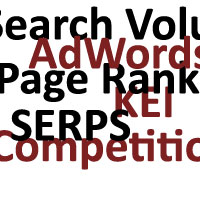 Knowing what potential customers are searching for is an invaluable asset when promoting a website. In the search engine world words are king, and markets are defined by the words people search for.
Aligning your website with the most searched for words increases your chance of being regularly placed in the search results. If you show up in results then you get more traffic. Search Engines chose if you appear in organic search results based on the content of your website!
Knowing what phrases, which have high search volumes, with little competition, can enable you to tap the larger markets, as well as minimise any online advertising costs. Quite often the report can discover new markets that could be worthwhile for a business to target.
The Keyword Market Analysis Report is a result of analysing your market to discover those words and phrases that have the greatest potential in attracting the right visitors to you website. i.e. people interested in your services.
Report Example - Chile Mojo
Chile Mojo is in Adelaide and they sell all things Mexican, especially hot sauces!

Check out my recommendations Keyword Analysis Report
Conclusions are based on a combination of market research, gathering statistics, performing calculations and some human intuition.
The report should be referred to when writing any website content, when developing online advertising campaigns and when promoting your website over the internet. i.e. the other SEO services I offer.
The conclusions of the report are also used in the monthly reports to track how well your website is performing against the most important search words. This helps you continuously track the effects of your keyword optimisation work.
Small Business Package
Save money and get more by signing up to my Small Business Support Package
More Info...
Priced From: $800 (Australian Dollars)
Contact me to get more information or a quote. If possible include the address of your current website and fill in our Website Marketing Questionnaire which is designed to help you and us understand your business better with regard to marketing it on the internet.