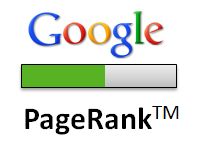 Find out how Google Ranks your website (ish)
From the early days, Google's patented PageRank algorithm has been central in their formulas to determine who shows up in their search results.
Over the years the exact algorithm has evolved, however it is still based on the same premise to determine how important a website is, based on which other websites link to it.
The true PageRank score for a websites page is kept secret, however Google does periodically publish a score out of 10 for each page via its Toolbar . This is commonly called the Google Toolbar PageRank.
The Toolbar PageRank is rarely updated and only provides a very rough guide to what the true PageRank may be. Non the less, many people practicing Search Engine Optimisation (SEO) monitor it. It can be an indication that a website is moving in the right (or wrong) direction. Please don't make it the focus of your success or behave like in the video when a new update arrives.
Note that PageRank is assigned to each page of a website. Some people use the PageRank for the home page as an estimate for the ranking of the whole domain.
The Google Toolbar PageRank Checker
Support this Development
Just enter your URL in the field and click check...