Jump to the top of search results
Google Places provides you a free and fast way to perform well in local searches.
Google will include a map at the top of its search results if it decides that the search is relevant to local results. This is often due to a place name being included in the search phrase, but can also be due to certain keywords being present, like "pizza delivery".
Below is an example where this website jumps to a prominent position in the search results due to it being correctly registered with Google Places: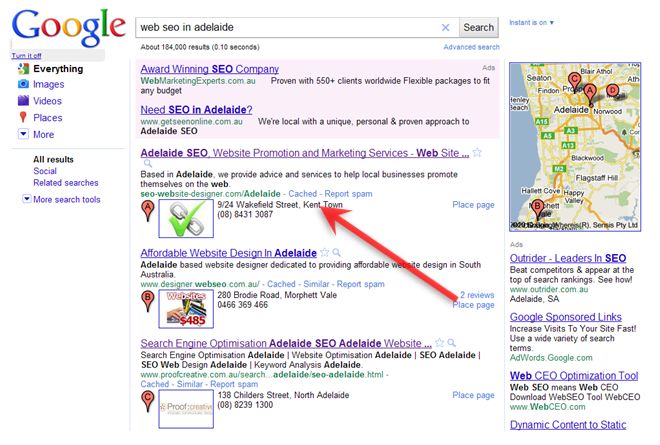 Google integrates Places entries in different ways depending on the search being made. Up to 7 entries are included, sometimes with logos and sometimes they include a single entry beside a large map. This is called the Authoritive OneBox and is a great bonus.
Registering with Google Places can get your website to appear in these top results, even when your website is not competitive enough to show up in the normal organic results.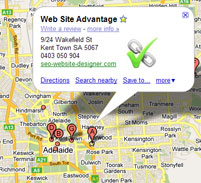 Registered local businesses will also appear in Google Maps and the Google Earth application.
Local search is becoming more and more common as smart mobile phones become more common. Being on Google Maps puts you in front of those mobile phone users as they search for a business close to them.
How do I register?
You can ensure your business is on the map and contains accurate information in Google by signing up to Google Places and registering your local business.
Make sure you follow their quality guidelines when entering your information.
Follow Google's own Step by Step Guide to ensure you create a complete listing.
Some Tips
Your business may already be registered. If so, claim it and enhance it.
If you have multiple offices, you can register each of their locations. However, the guidelines are against you using P.O. Boxes.
Make sure you include as much content as possible. Especially the description and categories. All this text goes towards your relevance to peoples searches.
Use all your categories and try and include ones that match your identified keywords.
If you try and confirm by phone, make sure someone's ready, it's a computer voice and only states the pin number twice before hanging up! The easiest way is to provide a mobile contact number, then confirm via a text/SMS message.
If you are confirming your business via the postcard, make sure whoever checks the mail is aware of this. It can be easily be mistaken as junk mail.
The first image you add will be the one used to promote your business (most of the time!). The system has a tendency to resize, crop and distort images so you may have to play around a bit. From my experimentations, I get the best results with a 220x220 image, were the top 150 pixels will get displayed in lists and the full 220 pixels in the places page and the bubbles. When changing images give the system some time to catch up as it often displays broken images or place holders for a while.
The use of certain words in your listing can get your entry de-activated and flagged for review. When this happens, try removing words you suspect to see if your account re-activates. Or even start from a very simple listing and add content till you find what is causing the flagging.
Avoid trying to trick the system. e.g. adding two places entries for your business. This can easily get your listing put under review.
Post items in your entry. You can do this once a month. It gives you an extra sentence to work with that can be a good call to action.
Add coupons, these can show up with your entry and make it stand out more.
Encourage people to write legitimate reviews, then find my business on Google Places and write a great review about this website ;-)