A quick step into advertising on Google
Google AdWords is an online advertising system where your adverts appear around the search results that Google provides to people.
It is based on pay per click (PPC) Search Engine Marketing (SEM), which means you don't pay for advert placement; you only pay if someone actually visits your website by clicking on the advert.
Typical costs per click can be from 10c to several dollars depending on how competitive the advertising space is. As you only pay for a successful advert and the price is so low it can be a very cost effective advertising medium.
Unlike other advertising mediums your adverts are directly targeted at your chosen market segment via the search terms people use. Good management of campaigns can optimise on this to maximise your Return On Investment (ROI).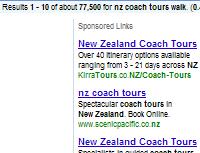 Google AdWords Account Setup includes the creation of campaigns, groups, keywords and adverts then initial monitoring and tuning the campaigns to reach the targeted budget.
A typical setup would consist of a single campaign, 20 ad groups, 50 adverts, and 500 keywords.
As a Google AdWords Partner you know I am qualified and experienced to set up your account for you.
Setup and management fees do not include the actual cost of the adverts (online advertising budget). This is kept separate so that you are aware of exactly how much money is actually going to Google.
An online advertising budget of $500 a month is a standard starting point. This would typically generate around 500 new visitors per month to your website.
Setup Priced From: AU$1,000 + GST (Approximately US$755.26 or 676,27 €)
(Setup costs vary based on the complexity and size of the requirements)
Contact Me for More Information on Setting Up your AdWords Account
You may also be interested in me managing your AdWord account once you have it setup.