Keep your cost down, spend on budget and ROI up
Google AdWords Management includes monitoring your AdWord campaigns in order to keep them on budget and to make any alterations required to keep it performing well.
If you don't have a Google AdWord account yet, or are not sure what Google AdWords is, then check out our AdWord account setup service.
Google AdWords is a Pay Per Click (PPC) online advertising system. That is, you only pay when a visitor is sent to your website. How much you pay is based on a bidding system, so it depends on the market you are targeting and how prominent you want your ads.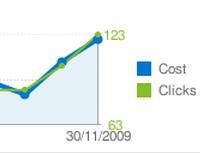 My PPC Management technique is designed to keep costs as low as possible, while still attracting relevant visitors to your website. The lower the cost per visitor, the more traffic I can generate to your website, on your budget.
Being a Adelaide Advertiser I am experienced with creating ad campaigns that work locally as well as nationally and internationally.
Work includes active AdWord campaign management such as analysis and improvement of keywords and adverts, conversion optimisation, search and display network advertising as well as remarketing.
As a Google AdWords Partner you know I am qualified and experienced to manage your account for you.
Management fees do not include the actual cost of the adverts. This is kept separate so that the client is aware of exactly how much money is actually going to Google.
Priced From: $350/month (Australian Dollars)
Based on an online advertising budget of $2,000 per month or less. Higher budgets are generally charged at 17.5% of the budget with no upfront service fee.
Contact Me for More Information on Managing your AdWords Account