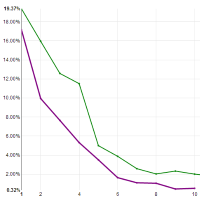 See a Real Example
From your Google Search Consoles Query Data
Google Webmaster Tools (now Google Search Console) enhanced the accuracy of its Search Query data at the start of 2014. iPullRank wrote an article about how this new data could be used to roll your own Click Through Rate (CTR) v Position charts. This can be used to find out how CTR changes based on search result positions in your own market. I liked the idea, so I've written this tool to make it simple for you to generate your own CTR study chart.
Input your Data
CTR v Average Search Position Chart
Results are compared with the CTR studies from Catalyst. The example chart is using my own websites data.
---
Average Search Position Data Table
---
Did this tool help you?
Why not reward me with a or support my late night development work by buying me a beer

Support this Development