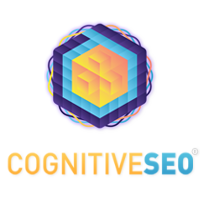 A Backlink Checker & Link Analysis Tool
Rating:
(5/5 Ticks) by Tony McCreath
I recently came across the CognitiveSEO Tools via a question someone posted on Google+. As I work on my own Backlink Analysis Tool and have been hit by Penguin I thought it would be worth doing their 2 week trial.
The Trial
Two weeks is not long when you have a million projects on the go, so I find myself now rushing this review while I still have trial time left. I decided to examine my own website as I have already done a lot of backlink analysis for it to solve its Penguin issues.
The trial does have some limitations, like only seeing the first 200 unnatural or suspect links and only being able to export 200 links. However it looks like all the main functionality can be tested.
One thing annoyed me off the bat and almost stopped me doing the trial. You have to provide credit card details up front and remember to cancel before the trial ends, or you pay. I very rarely sign up when they do this, it was their lucky day.
Depth of data
The first thing I did was to compare the data numbers with what I get from other sources. I have data from the Google Search Console (Google Webmaster Tools), MajesticSEO/Raven, Moz Open Site Explorer and Bing. Here are the numbers:
| Source | Domains | Links |
| --- | --- | --- |
| CognitiveSEO | 327 | 1,655 |
| Google Search Console (Google Webmaster Tools) | 604 | 4,250 |
| MajesticSEO (Historic) | 457 | 22,183 |
| Open Site Explorer | 151 | 368 |
| Bing | 105 | 926 |
In this case the Google Search Console has the broadest sample of data (domains) with MajesticSEO coming up second. Then CognitiveSEO follows up, beating Open Site Explorer and Bing.
One great advantage CognitiveSEO has is that you can import links from all the above tools and have it merge their links in. Best of all worlds.
It's not clear if the CognitiveSEO counts are just for links that validate. If that's the case then it scores a bit better. Majestic has 503 valid domains in total of which only 247 show up in the historic report, putting CognitiveSEO in the middle ground.
CognitiveSEO state they have data providers including MajesticSEO, aHRefs, blekko and SEOclicks. That's a good list so I would suspect they will generally get a good dataset. Add importing your Google Search Console links and it can't be beat.
The Interface
It's a fully web based interface which took me a little while to work out how to get around. For this review the main focus is on the Inbound Link Analysis which is by far the biggest feature set for the tool.
I instantly saw some resemblance to MajesticSEO with a link history graph and trust/citation flow graphs, probably directly coming from MajesticSEO themselves.
And then they go deeper. Look at this interactive node graph of all my pages and links. Great fun and may actually have some use.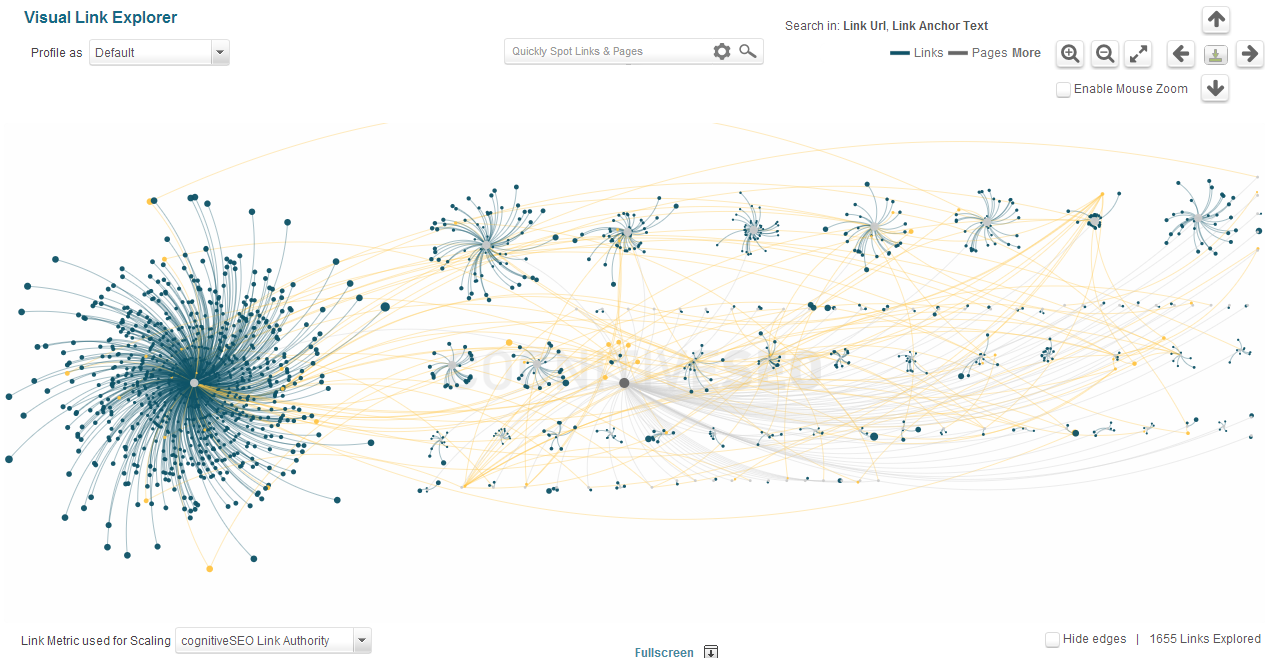 Link Analysis
Moving on to the main point for the tool, and that is helping you analyse your backlink profile (or a competitors) to identify issues or opportunities.
CognitiveSEO gather extra data about each link (anchor text, link location, page and domain authority) and infers further information like type of website it is on (Forum, Directory, Blog...). This is all pulled together to determine if a link is unnatural or suspected. I do like the way this is presented: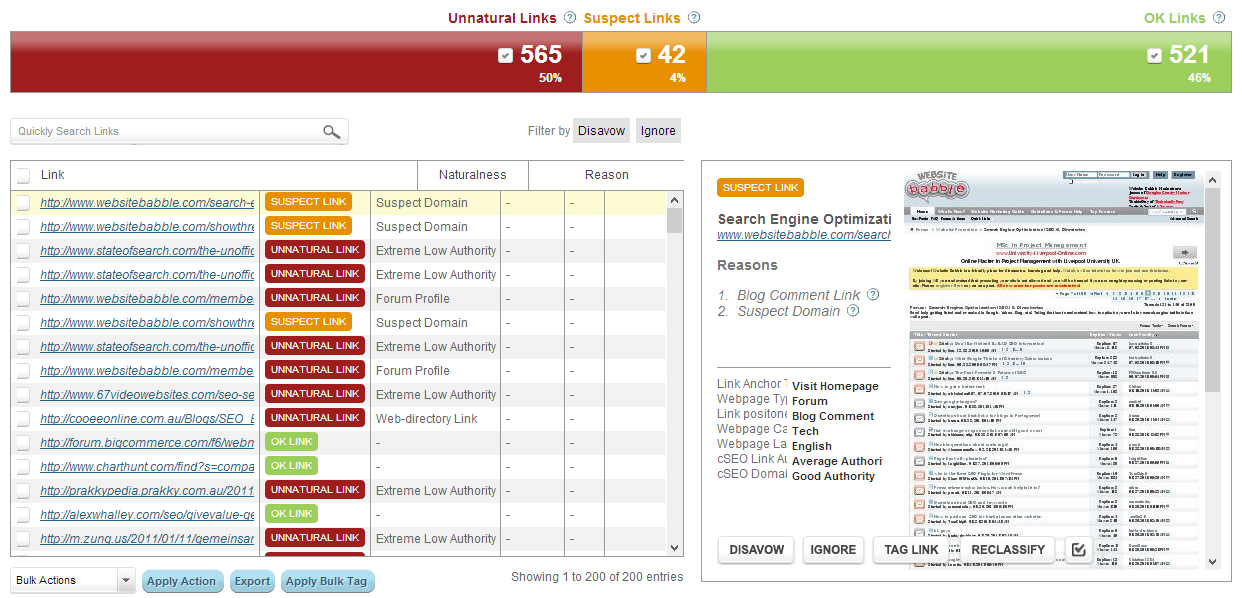 Filtering lets you list only the dodgy links. Clicking on each gives you details on the link including why it is considered dodgy and a page preview. For managing your work you can decide to ignore the link or add it to your disavow list, and that can be done in bulk. You can also tag links or add them to a to do list.
All this enables you to intelligently sift through links focusing on the most dodgy ones first. It still needs some intelligent human analysis of each link. Not all forum profiles are bad (I hope). Tools like this should only be used to help you sort out the data and make the right decisions. That's why the ignore option is great.
More Link Analysis
Further sections of the report help you to analyse those links in different ways.
Link distribution by landing page
Anchor text distribution including splits via Branded or Commercial
Domain and Link Authority, PageRank, mozRank spreads
Nofollow ratio
Link type (text, image, redirecting)
Is the link in content
Then there is IP analysis, Country, Deep link ratio.
I like the website types bar chart. It seems I do far too much blog commenting and forum posting! There is also a category chart that identifies verticals.
The link position chart is good too. This has categories like blog comment, short paragraph, group of links and image. Clicking on each provides you with the link list and actions.
Other Features
The tool also provides the ability to monitor keywords ranking, do competitor comparisons and see social shares. I could not find the keyword monitoring section.
Price
It starts at $99/month for 25 sites and 10,000 links per site. Then goes up to $999 for the Full Monte.
Conclusion
Times up! Sorry about the speed of the review. I should really be putting together a presentation I'm doing next month on backlink analysis. I guess this is research.
This tool has a lot of power in it. Fed with data from some of the best backlink sources around, it then digs deeper and presents the results in a very usable way.
That 10k limit for the basic package seems very small to me. They do perform deep analysis of each link so I can understand the lower link allowances. But MajesticSEO picks up over 22k links to my own little website, and I have individual clients racking up in the 100ks. Saying that, if they spread the crawl across domains like in the Google Search Console, then you should have a good sample to work from.
I currently use Raven Tools to get access to MajesticSEO data plus my own Backlink Software to process it. CognitiveSEO does not do everything that Raven Tools does, but it does what I mostly use, and does it better. In fact maybe well enough for me to switch from my own software!
Maybe I'll let that first payment go through.