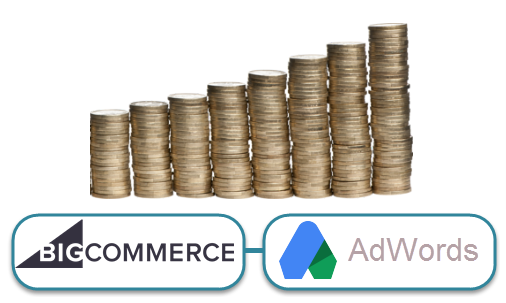 Connect Ad Cost with Revenue
Google Ads (Formerly AdWords) provides a way for you to track sales information so that you can optimise your advertising based on what causes sales. This includes tracking the dollar amount of each sale.
This article will help you set this up with BigCommerce.
Step by Step Instructions
The first step is to get the tracking code from your Google Ads account.
Login to Google Ads
Go to Tools->Conversions via the top menu
Click on the + Conversion button
Give it a name, e.g. Sales
Set source to Webpage
Click Save and continue
Conversion category is Purchase/Sale
For conversion value select Each conversion could have a different value
Set the conversion value to something easy to spot. e.g. 88888888
I normally switch off the tracking indicator
Click Save and continue
Select I make changes to the code
Copy the code into a text editor
Click Done
At this point you should see your new conversion entry with a status of Unverified. That will change once your get your first sale via Google Ads.
Next we need to edit the code you have and insert it into the website. In the code you should see 2 places that contain the conversion value you chose before (88888888). Find all three and replace them with %%ORDER_AMOUNT%%. It should end up looking a bit like the example below.
    <!-- Google Code for Sales Conversion Page -->
<script type="text/javascript">
/* <![CDATA[ */
var google_conversion_id = XXXXXXXXXX;
var google_conversion_language = "en";
var google_conversion_format = "3";
var google_conversion_color = "ffffff";
var google_conversion_label = "xxxxXXXX-xXxXxXxXxX";
var google_conversion_value = %%ORDER_AMOUNT%%;
var google_remarketing_only = false;
/* ]]> */
</script>
<script type="text/javascript" src="//www.googleadservices.com/pagead/conversion.js">
</script>
<noscript>
<div style="display:inline;">
<img height="1" width="1" style="border-style:none;" alt="" src="//www.googleadservices.com/pagead/conversion/XXXXXXXXXX/?value=%%ORDER_AMOUNT%%&amp;label=xxxxXXXX-xXxXxXxXxX&amp;guid=ON&amp;script=0"/>
</div>
</noscript>
	
Then follow these steps
Login to your BigCommerce Administration
Go to Setup & Tools->Conversions
Insert the modified Conversion Code
Click Save
All done. At this point you just need to wait until you get a sale via Google Ads to see if it is working.
Please provide feedback if you have any issues or if it worked perfectly for you.