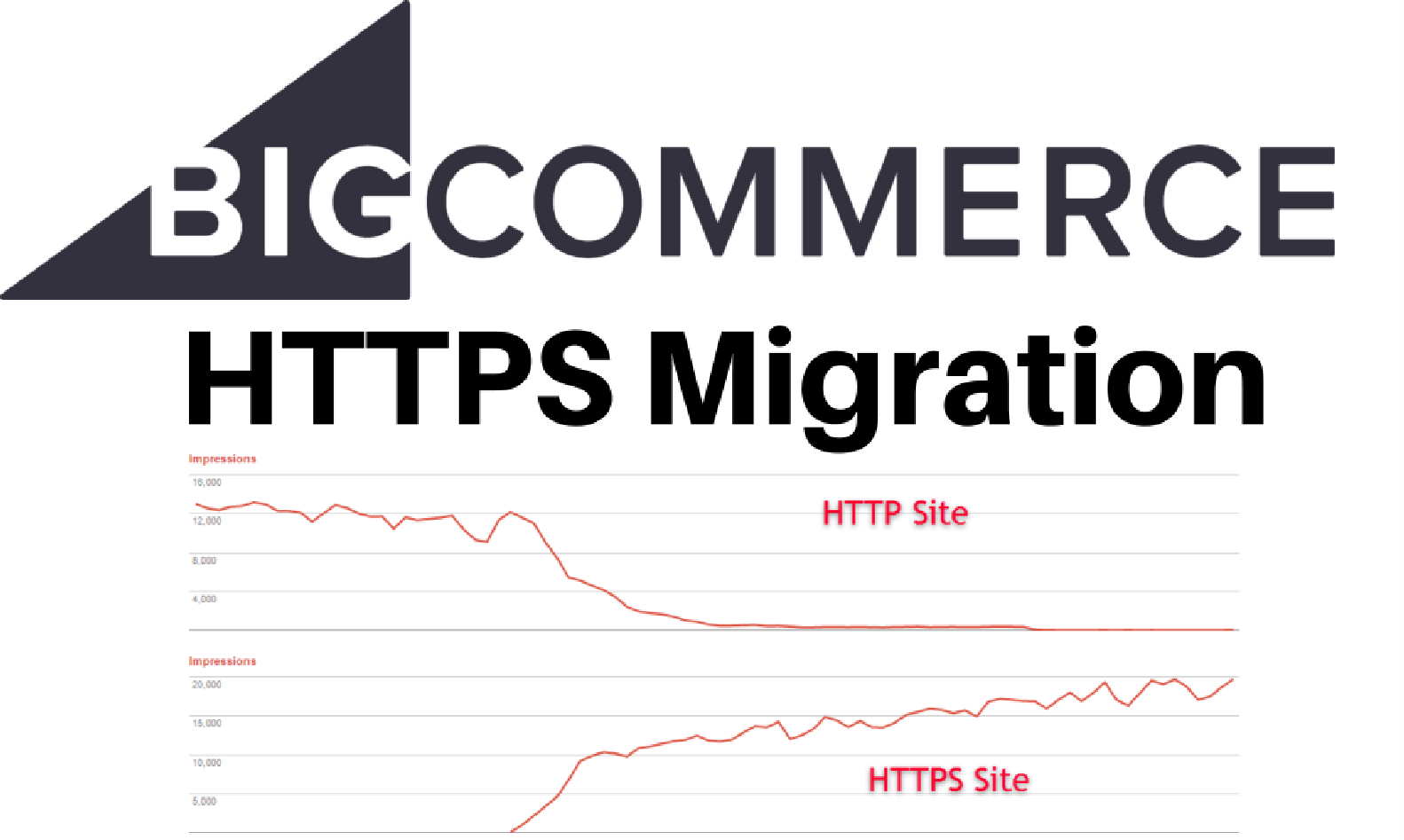 What
All BigCommerce plans can now have site-wide HTTPS
Steps need to be taken to ensure the switch is done right to avoid traffic loss
Why
Secure sites are safer
Users trust site more
Google uses HTTPS as a ranking signal
How
Configuring BigCommerce Admin & Site
Configure Property in Google Search Console
Check for issues
Monitor transition
Nervous?
Why now?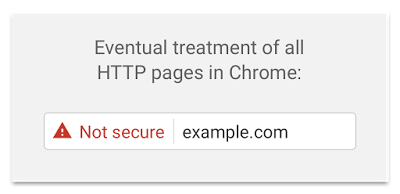 On the 1st of Feb 2017 BigCommerce finally let their customers on all plans switch to fully secured stores That is, they can make every page on their store use secure https URLs that encrypt the sending and receiving of the pages using an SSL certificate.
Going site-wide https is a great trust signal for users. This is getting more so as browsers are highlighting secure pages (green lock) and have recently started to warn more about insecure pages Google is now warning people when a page with a login form is not secure.
It's also a minor ranking signal with Google
It's a win win win to go fully secure
However, a safe switch to site-wide https is not just a case of pressing the button. There are quite a few things to check and configure to make things go as smoothly as possible. Here are the main steps:
Verify your https property in your Google Search Console
Ensure all pages reference secured https resources
Check pages are fully secure with a Green lock
Check that third party systems still work
Submit the xml sitemap
Monitor search traffic to ensure the transition progresses smoothly
To some of the technical stuff...
BigCommerce Robots.txt
Before you make the switch, BigCommerce is disallowing the crawl of all https pages via the robots.txt file that you can edit in the admin. This can slow down how Google transfers its indexing, as at this point none of your https pages are indexed.
I recommend copying your http robots.txt contents over to the https one before you make the switch (You will need to change the sitemap entry to https). This will give Google some time to index those https pages in advance. The more time you give Google, the better.

When you do make the switch you will most likely see a lot of warnings in your new xml sitemap. That is a symptom of that robots.txt setting. You should see the warnings decrease as Google catches up with the indexing.
Those warnings are not a major issue, consider them a way to see how Google is indexing your newly secured store.
Google also recommends that you remove the contents of the http robots.txt after the switch over. This allows their bots to crawl all URLs and transfer the processing of them over to the https versions.
Google Search Console
Your https property is a different one to your http one. You will need to also verify it in the console.
This is where you can submit your xml sitemap and see how Google is progressing in indexing your newly secured pages.
It can be worth testing a few URLs in their robots.txt testing tool. You want to make sure important pages are not still being disallowed. If so, there may be issues with your https robots.txt file.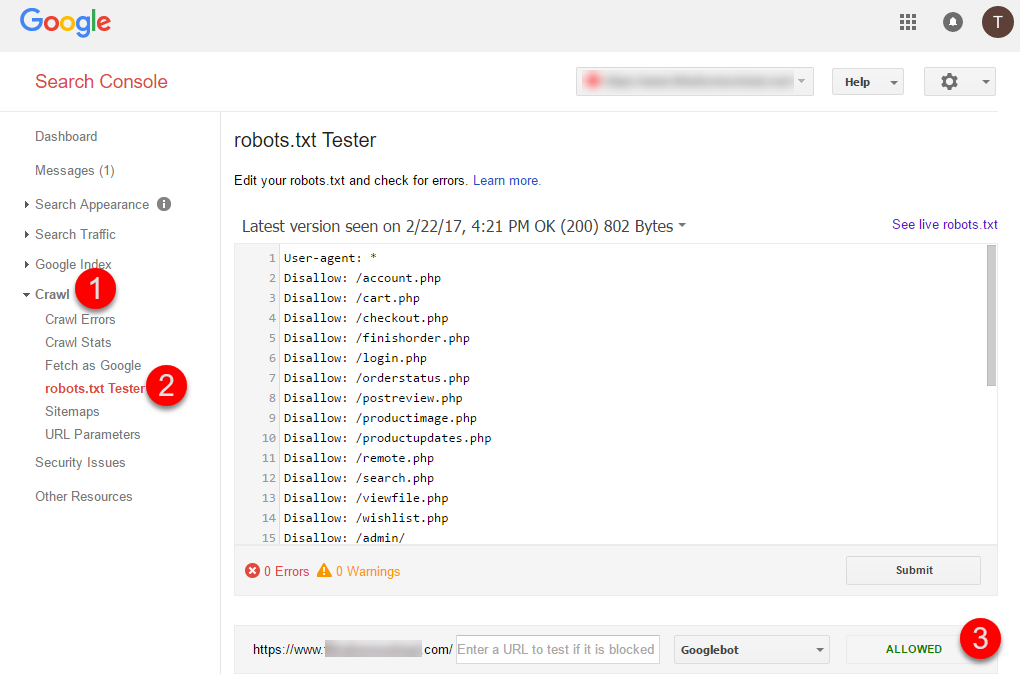 If you use URL parameter settings you will need to copy them over.
On Site Issues
For a page to be secure, it can only use secure resources. E.g. your images or included files. You can spot an issue quite quickly as the page will not show the green lock.
You want to check pages to make sure they are secure, and resolve any issues you find. This is especially important for the checkout page and pages where people are logged in.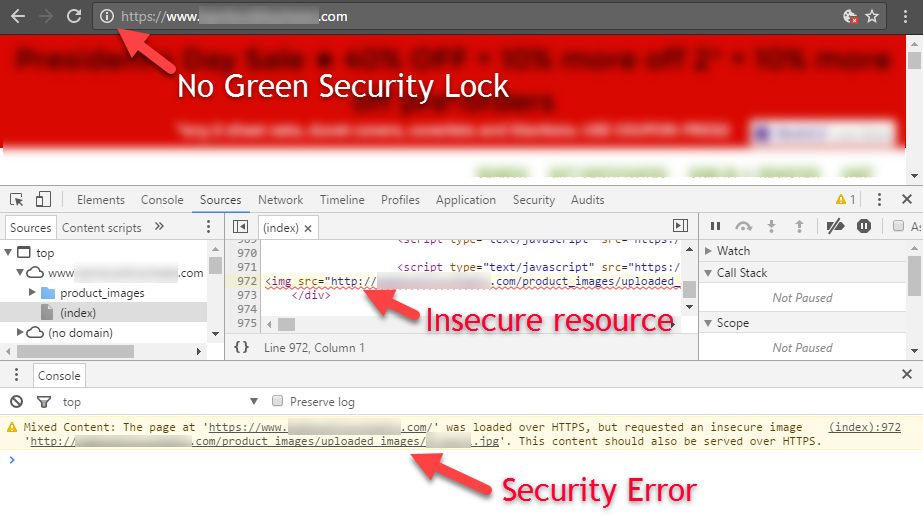 It's also worth checking for any hand made links in your content. They won't automatically get updated to https. They don't cause security issues, but can slightly slow down the user experience due to the links causing redirects.
You may also have meta data or structured data on your pages that still reference old URLs. It's best to make sure they are corrected.
You may want to invest in a crawler to help you thoroughly check your site.
Off Site Issues
Check any thirds party tools you have to see if they need updating after the change. E.g. The landing pages of your PPC adverts or your product feeds.
The robots.txt issue may cause some systems to struggle for a while. E.g. Product adverts may not have been able to crawl the product pages to verify their data.
Monitoring
Monitor both http and https properties in the Google Search Console to see how the transition is going. You should see a gradual transfer of impressions in the Query Analytics report which should be mostly complete after a few weeks. And the sitemaps should show a transfer of indexed URLs.
You will probably see a dip in traffic. Hopefully it should return to a similar level as before. We've even seen improvements after a switch.

Then focus on the https for all future data.
All a bit too much?

We can take the stress about getting this all right, by doing much of it for you. We charge just AU$400 + GST. (Approximately US$289 or 255€) for our BigCommerce site-wide HTTPS Service
Google Search Console setup (verification, sitemap, url parameters)
Switching to full-site https
A full site crawl to report on resource and link issues
Fixing resource issues
Fixing Meta Data and Structured Data reference issues
A tidy up of your Google Analytics property and view settings
Monitoring progress and resolving issues
We operate on a first come first served basis.
Contact us to find out our current availability
Reviews
Rating
5.0

out of
1
review
Best money we've spent!

Posted by
Molly Beich
on
Jan 17, 2019
Thanks for fixing our sitewide security. It's working perfectly. We are very impressed with the quality and professionalism of your work and the great communication. We had wasted months trying to figure out how to solve some of the issues and were not confident about going forward. You did it in one day and gave us all the information we needed to clean up all of the loose ends. My boss said it was the best money we have ever spent on our web store. Thank you!!!