Introduction
Every e-commerce business wants to stand out from the crowd, and rich snippets help achieve that goal by drawing attention to your website's entry on Search Engine's Result Pages (SERP). In particular, the visual aspect of review star rich snippets draw the customer's eye to the entry and establishes trust that others have found the product of good value.
The challenge to e-commerce businesses is achieving these coveted rich snippets and there are two main factors in achieving success - firstly, the required HTML markup needs to be valid and recognised by search engines and secondly, that the search engines find the quality of the product information sufficient to reward the rich snippet.
Tony McCreath from Web Site Advantage has spent years researching and fine-tuning SEO techniques on the BigCommerce forums and has solved this challenge by designing a Rich Snippet specific BigCommerce Package that combines the technical aspects with qualitative analysis and recommendations. Once the work is complete, the website is continually monitored until products receive review stars, and in the rare event these are not readily forthcoming, further analysis and advice is given to ensure they appear. As a testament to the veracity of the work done within this SEO package, no website has ever failed to receive review stars.
Here is one story...
Project Goal: Driving new business through effective Search Engine Optimisation (SEO) practices

Mixmastered Acoustics is like many e-commerce businesses — experts in their field but lacking in the technical skills to adequately promote online their unique selling points amongst the plethora of competitors. After identifying and recruiting BigCommerce partner, Web Site Advantage, through founder Tony McCreath's many helpful forum posts and articles — Mixmastered Acoustics was on track to significantly increase site traffic, visitor quality and search visibility.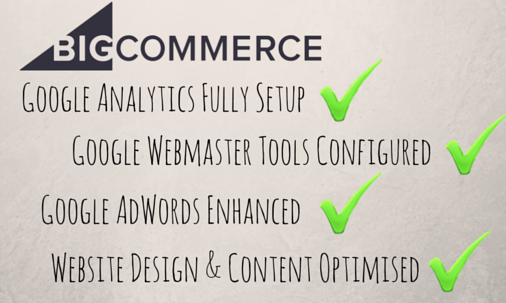 For the past 5 years, Tony has undertaken significant research and development on BigCommerce-specific SEO techniques and has refined a winning formula with a unique offering that combines cutting-edge technical implementations with custom, qualitative analysis and advice to enhance the online presence and search visibility of BigCommerce businesses.
This innovative BigCommerce SEO Checklist is offered free to all BigCommerce customers but due to it's comprehensive and technical nature, clients often elect for Web Site Advantage to carry out the implementation. By far the most popular element of the checklist is being rewarded review star rich snippets — something Tony is proud of achieving a 100% success rate with amongst his many clients.
How did the BigCommerce platform help us solve this challenge?
The BigCommerce platform assists in solving these problems by providing the following:
Built-in support for Metadata
Improves Click Through Rate (CTR) by allowing tailor-made product information to be presented to potential customers.
Downloadable product listings
Assist in quickly identifying and resolving SEO shortcomings such as insufficient/duplicate metadata.
Customisable Analytics code
Allows us to enhance standard code and improve user tracking.
Consistent templating system
Improves efficacy of implementation, reducing coding costs, minimising the burden to the retailer.
Forum support
Has "helped us to help others" by building the reputation and trust between quality BigCommerce partners and e-commerce business owners.
What was the positive business impact of the project?
Firstly, we'll let our very happy customer speak for themselves:
"I have seen a major up-tick in the rankings in the last fortnight...overall a HUGE improvement...One very good sign is the time spent on the site on average has tripled. So the traffic we are getting is very well targeted...My estimate is the process from interest until order is about 30 days. Should be a good October...Thanks again, Tony."
Dan, Mixmastered Acoustics Owner
We love getting emails like this — it's one of the reasons we help in the forums and go the extra mile for our clients. We don't stop until we get the right results. In this case it was a matter of convincing Google that the site was worthy enough to rank well and receive review star rich snippets.
The flow-on effect from this is that in just the past fortnight the following improvement has been seen:
Rich Snippets — 0 to 400 impressions per day, current growth rate is continuing
Search Impressions — increase of 500%, current growth rate is continuing
Search Clicks — increase of 300%, current growth rate is continuing.
Report via the Google Search Console
Report via the Google Search Console
Report via SEMrush

The Mixmastered Acoustics project has proven once again that good SEO is a combination of correct technical implementation and additional qualitative techniques. When a site is having issues ranking well, it can be relatively quick to apply the technical fixes and this was the case with Mixmastered Acoustics. With the ease of BigCommerce's administration and theme editing console, it was only a matter of days to implement the technical aspects of the project and have Google recognise the changes. Due to a unique combination of qualitative issues however, rich snippets and ranking were not improving dramatically as is usual with Web Site Advantage's clients. Regular analysis, recommendations and improvements were made to the site and as a result of this combined and dedicated approach another successful result was achieved.