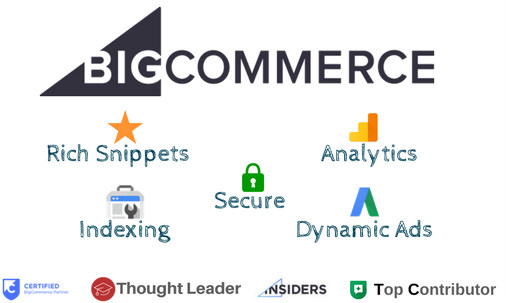 We've been helping individual BigCommerce stores do better with their eCommerce SEO since 2011. In 2014 I decided to take our custom SEO services and develop them into a one-time package. Something we could offer to a broader audience while giving people more for their money.
Over time the package became more refined, and gained features. Another 5 years on and we have expanded it into 7 packages that each provide their own distinct SEO solutions for BigCommerce store owners.
These packages uniquely offer the steps to getting your store highly tuned-up for BigCommerce SEO performance and more:
Quick SEO Audit - Find out what you're missing
Not sure if you really need our BigCommerce SEO services? This package is a great way to find out. With our Quick SEO Audit, We run through most of the items from our BigCommerce SEO Checklist and provide you with an itemized report on what needs doing and a recommendation on what, if any, of our other packages you need to solve your problems.
Price: AU$150 + GST which is about US$107 or 95€
Rich Snippets - Eye Catching Results In Google
We add Google Compliant Rich Snippet markup for:
In addition, we monitor for and advise you of its success!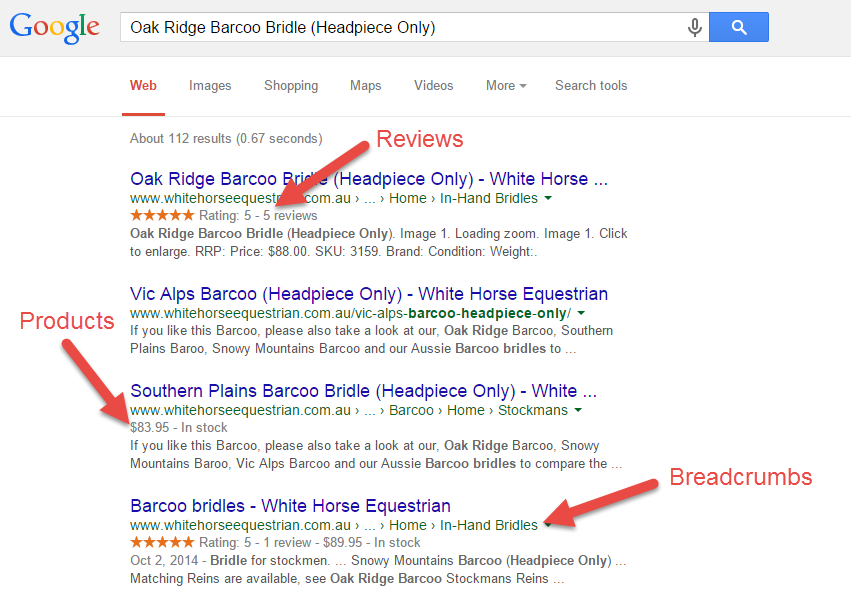 Price: AU$400 + GST which is about US$286 or 255€
Indexing - Controlling Google
Using Google Search Console we will:
Register all domain variations
Review Settings and Reports

Price: AU$400 + GST which is about US$286 or 255€
Analytics - Gathering Information
Using Google Analytics we will:
Add Detailed Checkout Goal Funnel
Review all Google Analytics settings
Monitor for Issues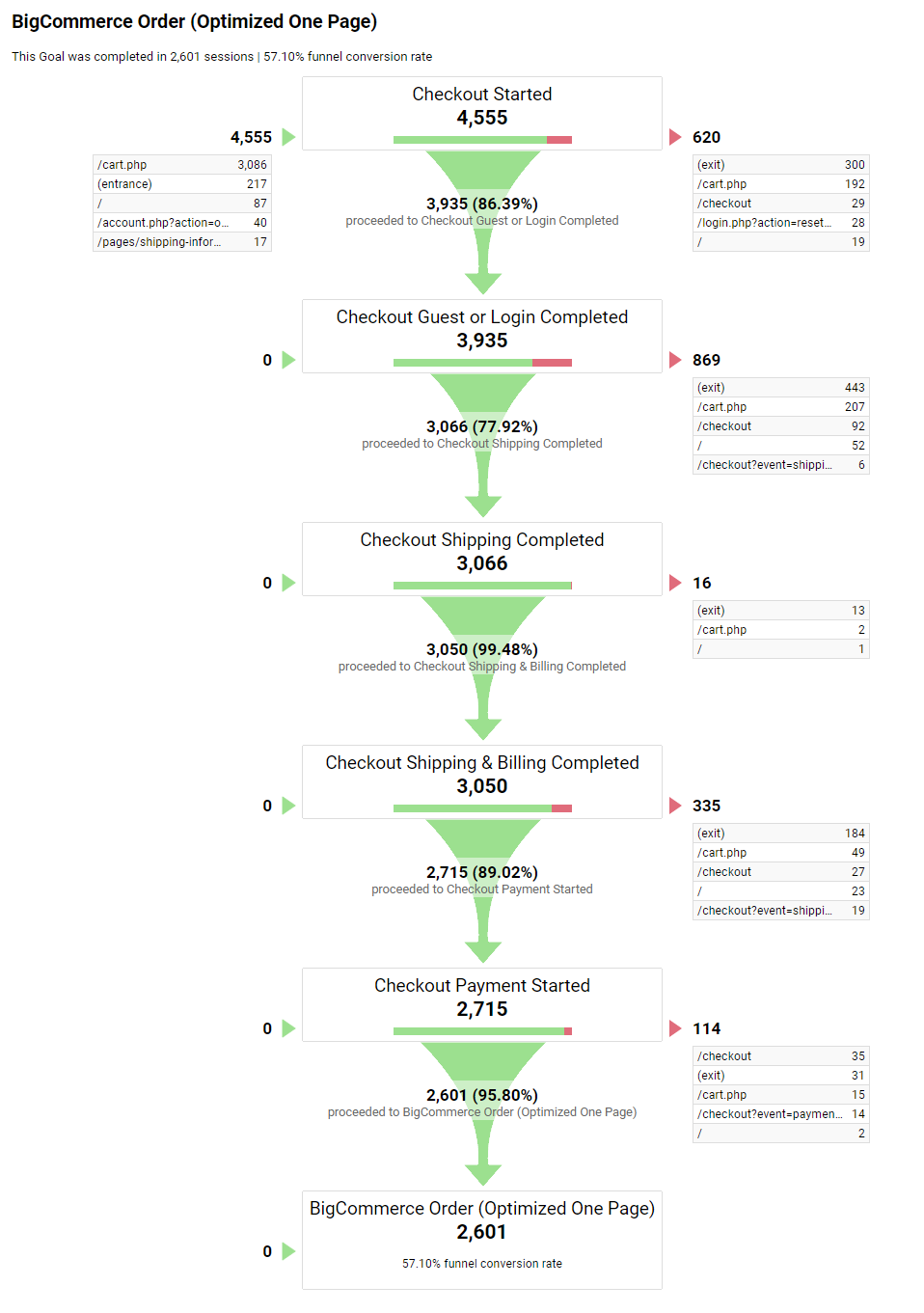 Price: AU$400 + GST which is about US$286 or 255€
Quick Win eCommerce SEO - Custom Analysis and Recommendations
Only for customers who also purchase our Indexing and Analytics packages - because we can't analyse what we can't see!
Analyse & Identify your best chances for improved ranking & success
Prioritise recommendations
Fixing "HTML Improvements" Issues
If we can't find anything worthwhile,

YOU DON'T PAY!
Price: AU$1,000 + GST which is about US$716 or 636€
Site-Wide HTTPS Conversion - Stay Secure
Still using insecure HTTP? We switch you over to secure HTTPS by:
Configuring Google Search Console (verification, sitemap, url parameters)
Configuring Site-Wide HTTPS
Crawl your site and report on resource and link issues
Fix Meta Data and Structured Data reference issues
A tidy up of your Google Analytics property and view settings
Monitoring progress
Find out more about switching BigCommerce to Site-Wide HTTPS.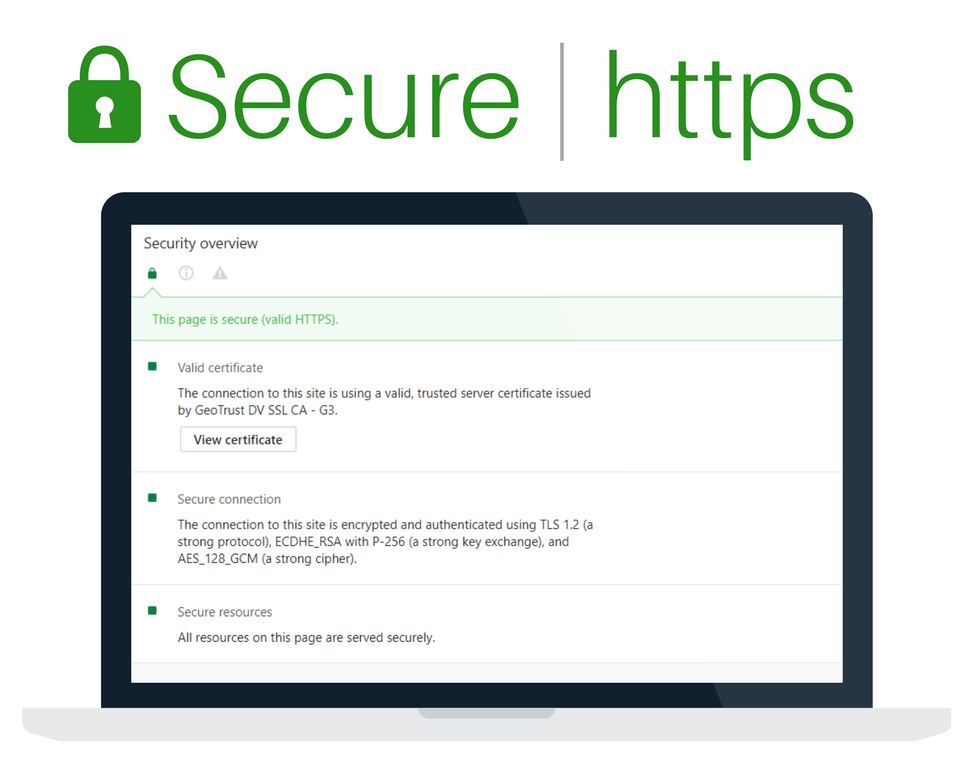 Price: AU$400 + GST which is about US$286 or 255€
Google Ads Smart Shopping and Dynamic Remarketing Campaigns - Highly Targeted Product Ads
Show product based ads tailored to your site visitors as they browse the internet.
Smart Shopping and Dynamic Remarketing campaigns require advanced tags on the site that track user behaviour in relation to the products they show interest in. These campaigns are hard to set up, but once running are easy to maintain and can have a great return on investment.
Help in setting up and linking all the required accounts
Implementing the complete and correct dynamic remarketing code set
Setting up or auditing a standard Shopping campaign
Setting up or auditing a standard Dynamic Remarketing campaign
Monitoring progress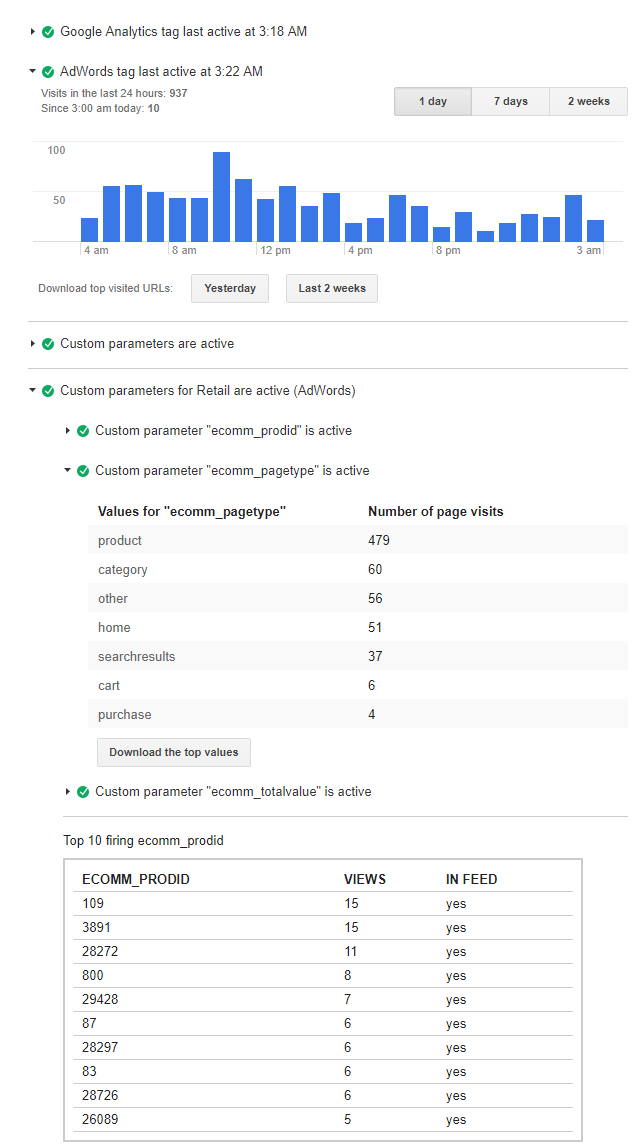 Price: AU$1,500 + GST which is about US$1,074 or 955€
How Much?
Each package is a one-off charge unless otherwise stated.
BigCommerce Package
AUD*
~USD
~EUR
The Setup Bundle
Rich Snippets + Analytics + Indexing
Save $100
$1,100

$787

700€

The Big Bundle
The Setup Bundle + Quick Win SEO
Save $200
$2,000

$1,431

1 273€

Quick Audit
$150

$107

95€

Rich Snippets
$400

$286

255€

Analytics
$400

$286

255€

Indexing
$400

$286

255€

Quick Win eCommerce SEO
$1,000

$716

636€

Site-wide HTTPS Service
$400

$286

255€

Google Ads Dynamic Remarketing Setup
$1,500

$1,074

955€
~ Approximate price based on currency conversion rates.
* 10% GST is applicable for Australian customers
The Fine Print
Non-Standard Solutions/Features
Our solutions are based on standard BigCommerce solutions/features - We like to help out getting our solutions to work with 3rd party or custom modifications but this will be at our discretion.
Out-of-Scope Support
We genuinely get excited about customers asking us questions about our work and report content, because it means that you've read them and you want to learn! After offering more than reasonable free support or answering questions beyond the scope of our work, we will discuss moving to a paid consulting role.
Ongoing Support Work
For existing customers we offer ongoing consulting support at $AU200*/hour with a minimum charge of $100 in any given month when contact is made.
*GST - Goods & Services Tax
A further 10% GST is applicable for Australian customers only.
Reviews
Rating
5.0

out of
7
reviews
The best SEO advice

Posted by
Tracy
on
Apr 15, 2019
These guys are simply amazing! They are super thorough and trusting! I wish they had monthly services ... hint hint ... BigCommerce needs more partners like Website Advantage!!
Best money we've spent!

Posted by
Molly Beich
on
Jan 17, 2019
Thanks for fixing our sitewide security. It's working perfectly. We are very impressed with the quality and professionalism of your work and the great communication. We had wasted months trying to figure out how to solve some of the issues and were not confident about going forward. You did it in one day and gave us all the information we needed to clean up all of the loose ends. My boss said it was the best money we have ever spent on our web store. Thank you!!!
Fantastic work

Posted by
Ted Miller
on
Nov 15, 2017
I've used Web Site Advantage a couple times over the years to upgrade the rich snippets in my BigCommerce store to reflect Yotpo reviews (plus other bells and whistles). They get it done quickly and deliver as promised. It's been probably 4 weeks since they did their work and I'd estimate it paid for itself 2 weeks ago.
Service and Tune Up

Posted by
Robin Sharp
on
Sep 13, 2017
We have had an online website with Big Commerce for a number of years now and was keen to get some professional advice on how it was going and basically getting the site serviced. Bit like a car service I guess. Brad was very thorough and went through our site with a fine tooth comb. They fixed plenty and what they didn't fix they advised us on what needs fixing. Great Job. Thanks for the tune up and look forward to trouble free motoring into the future.
Great service and good advice

Posted by
Dave Hutcheson
on
Jul 29, 2017
I required help getting all the setting correct on my BigCommerce website. I had Tony and Brad to a SEO Tuneup. Everything has gone really well, they reported back explaining exactly how things were going. Job well done. I would highly recommend their service.
When SEO gets real = Web Site Advantage

Posted by
Ana Cuenca
on
Jul 10, 2017
Excellent job my friends! The first email we ever exchanged is dated Sep, 2015. Since then, this is the only SEO company I will always work with! Thanks for been there for us!
Simple and Easy Solutions

Posted by
Greg Noonan
on
Jan 30, 2017
I requested help from Tony to get my Rich Snippets properly working on one of my BigCommerce sites. Tony was able to easily get this integrated on our site and pass over a very detailed report on his updates. Since then I used Tony for two more BigCommerce Websites and also for an SEO Tuneup as well. Not only does Tony know SEO very well he also knows BigCommerce platform which was a huge benefit for us. I am really pleased working with such a professional.