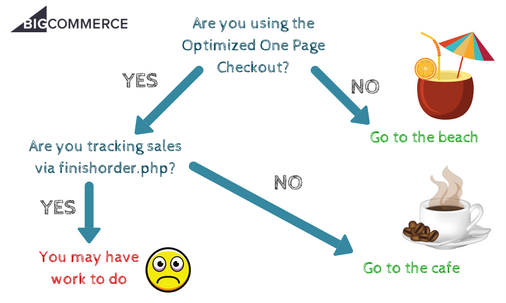 What has happened?
Our Packages
We offer a suite of packages to help set up BigCommerce stores including a Google Analytics package that will fix this issue.
Find Out More
On the 23rd October 2017 BigCommerce changed how the Optimized One-Page Checkout works. Part of this change was that the checkout no longer completes on the following page:
https://mystore.com/finishorder.php
Instead it ends up here:
https://mystore.com/checkout/order-confirmation
This was announced in a BigCommerce forum post which caused quite a bit of confusion. Hence this article.
Does this affect me?
Here's a checklist. If you say no to any of these, then you are not affected. If that is that case, please do not go changing things as it is more likely you will break what is currently working.
Are you using the Optimized One-Page Checkout?
If you are using any other checkout system besides the Optimized One-Page Checkout, then nothing has changed. You have the day free, slap on some sunscreen and go to the beach (It's coming into summer here).
Go to BigCommerce Admin->Advanced Settings-Checkout
Check if you have "Optimized one-page checkout" selected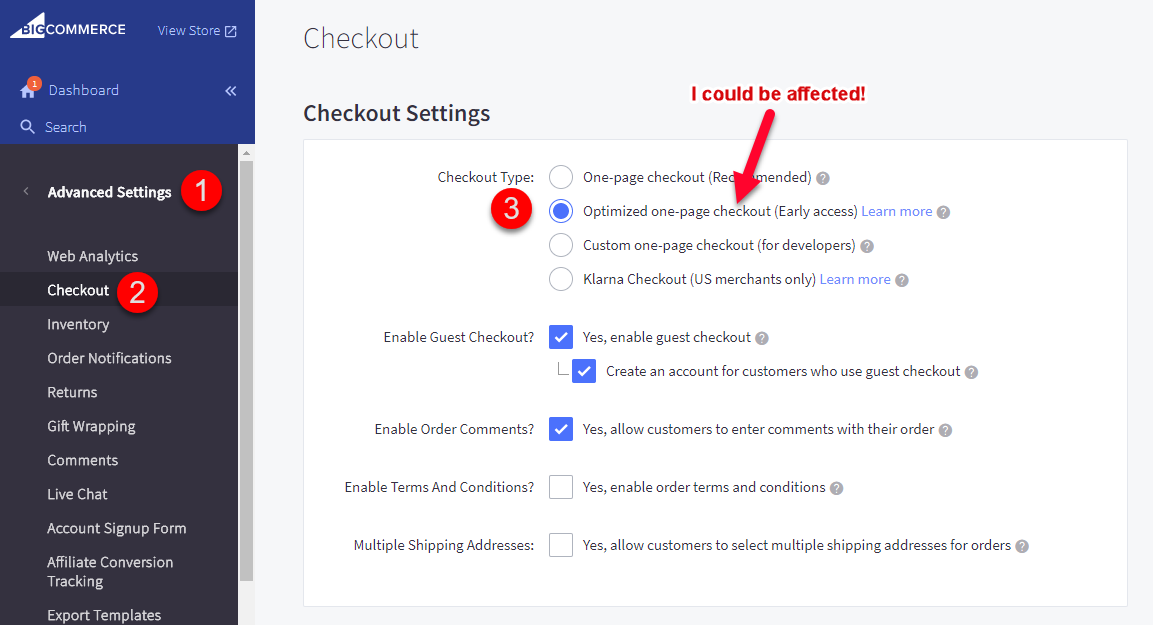 Are you using any system that tracks sales based on finishorder.php?
Some sales tracking systems rely on spotting a visit to a page to indicate a sale has been made. The most common one is a Google Analytics goal for order tracking.

The simplest way to find out is to check their reports and see if orders stopped happening on the 23rd. If so, you're probably affected and need to keep reading.
Go to Google Analytics->Conversions->Goals.

If you do not track orders in that way, get your online marketing book and pop to a nice cafe. Time to focus on building your business.
Time to fix your order tracking
If you are not yet on the beach, or drinking a latte, then I'd guess you have something to fix.
How to fix things depends on the tracking system you are using. Here I will show how to check and fix a Google Analytics Order Tracking Goal.
WARNING! If you are not using the Optimized One-Page Checkout, DO NOT do this. You will break the goal!
Find the relevant Goals
Go to Google Analytics->Admin->View->Goals
And review what goals you have: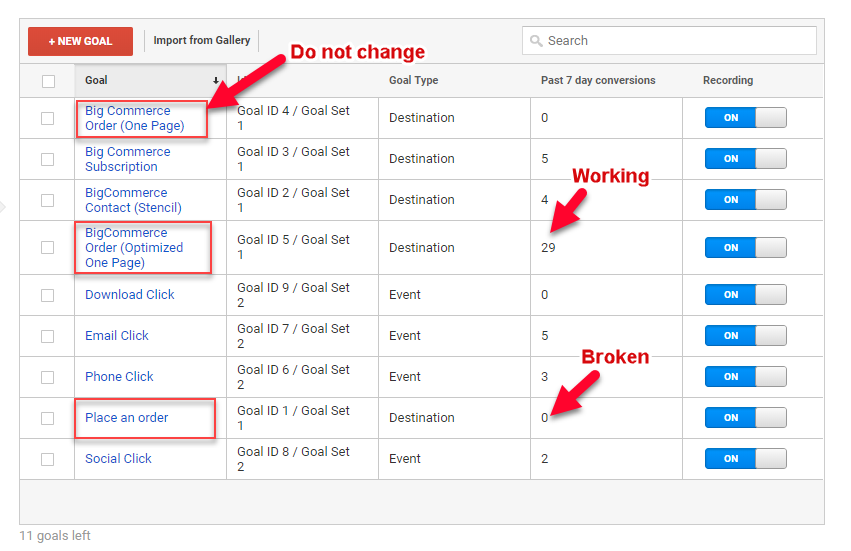 Here you will see all the goals you have set up. This change could have affected any or all goals that are related to tracking an order completion. They may use terms like order, purchase, sale etc.
Note: The page reports goal conversions over the last 7 days. If that is zero, then your goal is most likely broken.
Note: When we set up goals for you we now create a goal for normal Orders, and a separate goal for the Optimized One-Page Orders. This is so you can switch between checkout systems and still have a working goal. If you use our goals, DO NOT EDIT the one for the normal One Page Orders.
Check if a goal is affected
If you click on a goal, then in the Goal details you can see how the goal works. We are looking for the presence of the word "finishorder" in the destination option. If it is there, your goal will be affected.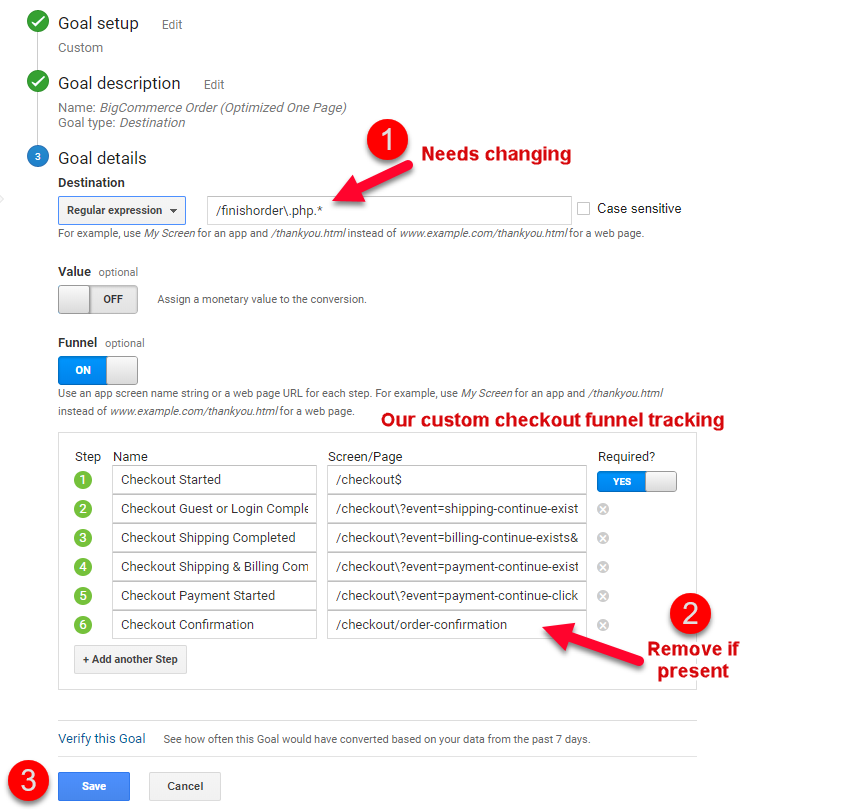 Your Destination needs changing to:
/checkout/order-confirmation
Also, if you have /checkout/order-confirmation as the last step in your funnel (our goals do that), then you need to remove that last step.
For our Optimized One-Page Checkout Goal, things should look like this.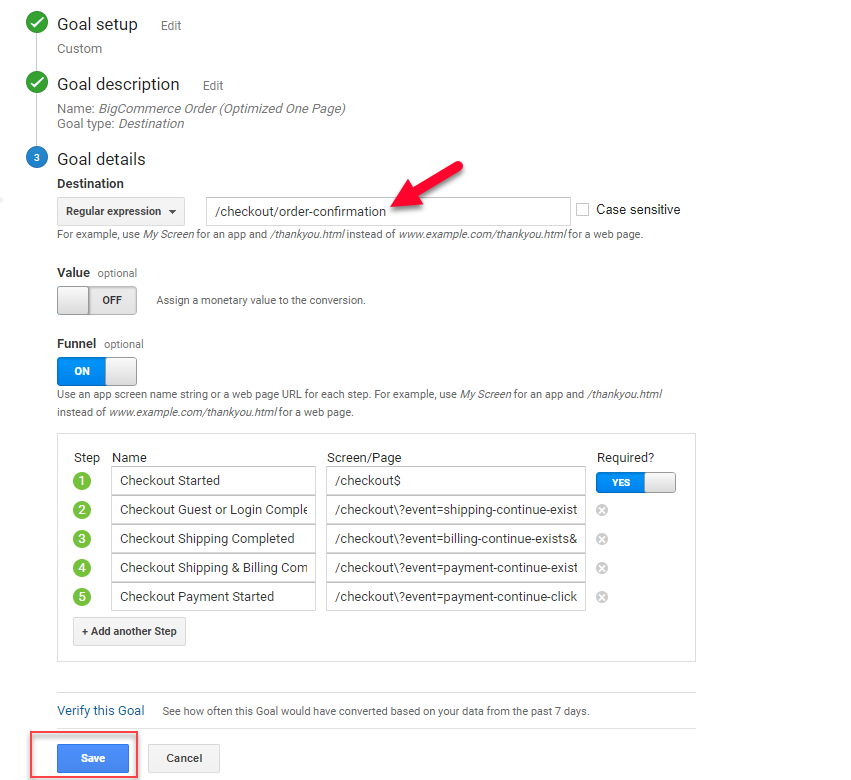 Don't forget to Save your changes.
Check if things are fixed
Give it a day, then check to see if orders are starting to be tracked.
If you still have issues, contact the BigCommerce technical support team so that they can investigate.
PayPal Auto-Return URL
If you use PayPal then you should have set up its auto-return so that PayPal orders get tracked properly in Google Analytics. The BigCommerce instructions for Setting up the PayPal Auto-Return URL include information on how to update it to work with the latest Optimized One-Page Checkout.
What has actually changed?
The Optimized One-Page Checkout no longer ends up on the finishorder.php page. Its last page is now /checkout/order-confirmation. So if tracking software is looking for a hit on the finishorder.php page, it will no longer see it.
What about my other tracking code?
Other tracking code placed in the Web Analytics, Affiliate Conversion Tracking or Footer Scripts sections will still work and is executed on the new /checkout/order-confirmation page.
Code in the Google Analytics and Affiliate Conversion Tracking sections still uses the Blueprint style variables, while the Footer Scripts is only available on Stencil themes and uses Stencil/Handlebars code and objects. At this time it seems Footer Scripts does not have access to any cart details via the Stencil objects or the Blueprint variables.
You may need to update your Stencil theme to get the Footer Scripts to work with the Optimized One-Page Checkout.
What next?

We offer a suite of packages to help set up BigCommerce stores including a BigCommerce Google Analytics package that will set up advanced goals, order tracking and fix this issue.