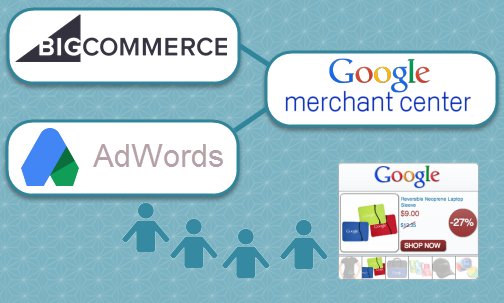 Note: This article is quite old now and covers how to set things up for a Blueprint theme using the old style of dynamic remarketing code. We now have a solution that works with Stencil using the latest Google Ads event tracking code. Contact us if you are interested.
Product Adverts that follow your Visitors
Dynamic Remarketing combines several Google Ads (Formerly AdWords) systems resulting in a powerful and mostly automated advertising campaign. Adverts target people who have previously shown interest in your products by placing ads for those products on the website they subsequently visit.
This means Dynamic Remarketing is one of the most complex Google Ads campaigns to get going. It requires a Merchant Centre Shopping feed and Remarketing tags to be set up, plus page specific code to identify what a visitor has looked at.
Google Ads have now release a new Smart Shopping Campaign type that takes the Dynamic Remarketing to a new level using more machine learning. These Smart Shopping Campaigns will work better when the Dynamic Remarketing code is properly implemented.
This article goes through the steps I followed to successfully set up BigCommerce based Dynamic Remarketing campaigns using the older AdWords custom tagging system. If you are still using the older tags (not gtag) then this should work for you.
We offer several BigCommerce SEO and SEM Packages which includes a BigCommerce Dynamic Remarketing package for setting this up. We also have a complete Dynamic Remarketing solution for Stencil themes that use the new gtag.js code as recommended by Google Ads.
Have an Google Ads account
Obviously this process requires you to have an Google Ads account. If you don't yet have one then go to Google Ads and create one.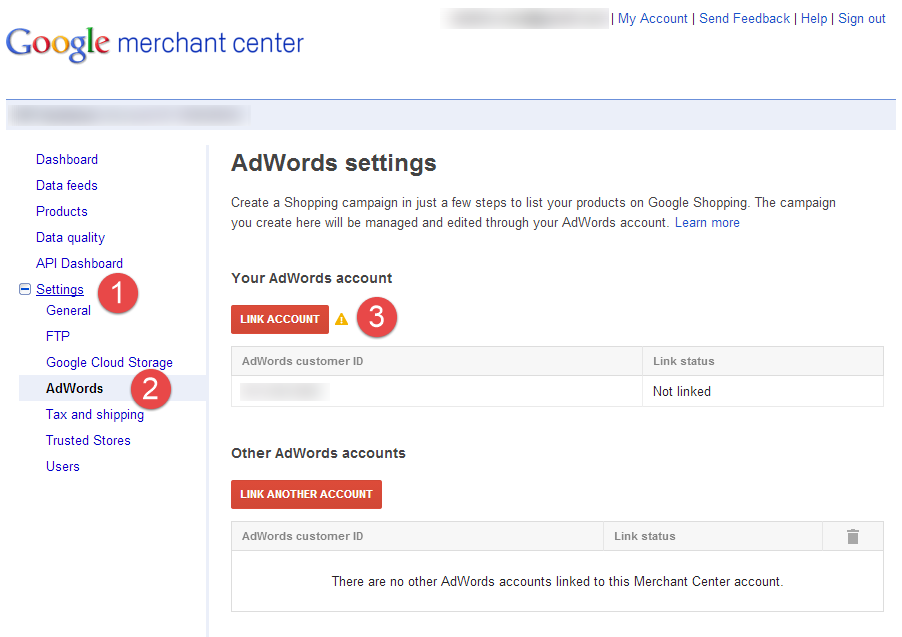 Set up a Shopping Campaign
BigCommerce provides instructions for Google Shopping. At this time they don't provide direct support, and a third party BigCommerce Google Shopping app is requered. Once you have completed those steps you will need to link the Merchant Account with your Google Ads account:
In the Merchant Center go to Settings->Google Ads (steps 1 & 2). Hopefully you should see your Google Ads account listed and the option to Link Account (step 3). If that option is not available then find your Google Ads customer id (top right in Google Ads) and use the Link Another Account option.
You are now able to create Shopping Campaigns in Google Ads. These are the product ads with photos that show up in the Google Search Results. A very powerful way to advertise.
Your Privacy Policy
Remarketing requires your website to gather information on your visitors. Because of this, before you can use Remarketing you need to make sure your Privacy Policy conforms to Google's Remarketing Privacy Policy Requirements .
Set up Google Google Ads Dynamic Remarketing
In Google Ads go to Shared Library->Audiences. Here you should see an option to set up dynamic remarketing. If you don't have that option it probably means remarketing has already been set up. You can skip to the next section.
When you click the button you should see some instructions for tagging the site. If not, you may not have the Merchant account linked correctly.
You will be asked if you want to use the Google Analytics tag instead of the Google Ads remarketing tag. I suggest you stick with the Google Ads tag which is the path these instructions follow.
Enter your email address and click Send and Continue.
Google Ads will create some automated Remarketing lists for you. Continue clicking the buttons until you are back at the Google Ads main page and can see the remarketing lists.
Getting the Dynamic Remarketing Tag
We now need to add the tags required to enable Remarketing, as well as pass the information required to enable Dynamic Remarketing.
Follow these steps to get hold of the sample code we need. The video to the right will help:
Ensure you on the Shared Library->Audiences page
Click on the View tag details button (top right)
Click on the Setup option in the dialog
Expand the instructions
Copy the code so we can refer to it later
Adding the Remarketing Tag
The lower part of the code you just captured should be included like this, using your own ids. Note that I have added an extra script that makes sure all pages set the google_tag_params.
<script type="text/javascript">
if (window.google_tag_params == undefined) {
    var google_tag_params = {
        ecomm_pagetype: 'other',
        ecomm_prodid: '',
        ecomm_totalvalue: 0
    };
}
</script>
<script type="text/javascript">
/* <![CDATA[ */
var google_conversion_id = 

XXXXXXXXXX

;
var google_custom_params = window.google_tag_params;
var google_remarketing_only = true;
/* ]]> */
</script>
<script type="text/javascript" src="//www.googleadservices.com/pagead/conversion.js">
</script>
<noscript>
<div style="display:inline;">
<img height="1" width="1" style="border-style:none;" alt="" src="//googleads.g.doubleclick.net/pagead/viewthroughconversion/

XXXXXXXXXX

/?value=0&amp;guid=ON&amp;script=0"/>
</div>
</noscript>
This is where we get into editing the BigCommerce templates. Go to the template editor in BigCommerce via Design->Edit HTML/CSS.
In this case we want to edit the Panels/Footer.html template file by adding the partial code to the end of the file. That enables AdWords based Remarketing so you can now create Remarketing Campaigns.
Next we need to add the extra parameter code to all the pages on the website so that the Dynamic remarketing can track what each page is about.
category.html
Add the following code just before the %%Panel.Footer%% line:
<script type="text/javascript">
var google_tag_params = {
ecomm_pagetype: 'category',
ecomm_prodid: '',
ecomm_totalvalue: 0
};
</script>
search.html
Add the following code just before the %%Panel.Footer%% line:
<script type="text/javascript">
var google_tag_params = {
ecomm_pagetype: 'searchresults',
ecomm_prodid: '',
ecomm_totalvalue: 0
};
</script>
default.html
Add the following code just before the %%Panel.Footer%% line:
<script type="text/javascript">
var google_tag_params = {
ecomm_pagetype: 'home',
ecomm_prodid: '',
ecomm_totalvalue: 0
};
</script>
Panel/ProductDetails.html
This one is different as it captures the products id and price. In this case we need to add it to the start of the file.
<script type="text/javascript">
var google_tag_params = {
ecomm_prodid: '%%GLOBAL_ProductId%%', 
ecomm_pagetype: 'product',
ecomm_totalvalue: %%GLOBAL_RawProductPrice%%
};
</script>
Snippets/CartItem.html
This bit of code needs adding to the start. It gathers all the carts product ids for later.
<script type="text/javascript">
    var cartproductids = cartproductids || [];
            cartproductids.push("%%GLOBAL_ItemId%%");
</script>
Thanks to James Corr of the tip on using GLOBAL_ItemId.
cart.html
Add the following code just before the %%Panel.Footer%% line. You will need to alter that code if you don't use a dot (.) as a decimal point. Replace the dot in [0-9. ] with whatever decimal point character you use.
<script type="text/javascript">
var cartproductids = cartproductids || [];
var google_tag_params = {
ecomm_pagetype: 'cart',
ecomm_prodid: cartproductids
,
ecomm_totalvalue: Number('%%GLOBAL_CartTotal%%'.replace(/[^0-9. ]/g,'').trim())
};
</script>
order.html
How to do this was kindly posted by Craig.
Swap the following snippets around so that they look like this:
%%GLOBAL_ConversionCode%%
%%Panel.Footer%%

Then, in the Conversion Tracking area of the BigCommerce Admin, add this to the bottom of the code in the box:
<script type="text/javascript">
var google_tag_params = {
ecomm_pagetype: 'purchase',
ecomm_totalvalue:  %%ORDER_AMOUNT%%
};
</script>

Setting Up The Campaign
We are almost there!
Create a New Campaign
Select Display Network
Then Remarketing
Pick a budget
Enable Dynamic remarketing should already be set and connected to your Merchant Center
Save and Continue
Pick a CPC value
Pick the Remarketing list to use
Design your adverts
Save
And your done. Just wait with fingers crossed.
Please provide feedback if you have any issues or if it worked perfectly for you.