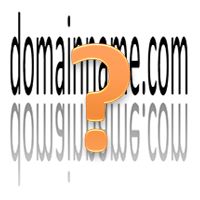 Choose wisely, young Webwalker
Your domain name is one of the first decisions you make when creating a website. And a hard one to change! Here are some tips to help you make the right choice and get the best domain name for your business website.
The advice is primarily targeted at small businesses in Australia.
To some administrative advice first. How to find, buy and host your new website...
Domain Name Search
When working out your domain name you need to be able to quickly check if it is available. There are many websites that provide this service such as Domain Central where this and all my Australian domains are registered.
Once you have made your decision, it is probably simplest to purchase your domain at the same place you get your hosting.
Affiliate Disclaimer
This article contains affiliate links so I may earn a commission if you purchase something. My recommendations are based on personal experience and not driven by these affiliations.
Hosting
You will need somewhere to place your website. This is where Hosting comes in.
The speed of your website will affect user experience and if it is extremely slow it can also affect its ranking. To maximise speed it is ideal to get your hosting from a provider that has servers close to your customers. e.g. Australian Hosting providers may provide a faster website if your customers are in Australia. You may also find support is better from a local provider. However this is not always the case so I recommend checking up on any provider you are considering to see if they provide good servers and support. Also make sure they actually have local servers and don't just re-sell servers from another country.
Digital Pacific is a good ECO friendly Australian option. Their servers are in Australia so have a natural speed advantage and they also sell .com.au domains. WebCity also look like they offer some good rates.
This website was originally hosted in Australia with ASP Web Hosting . However, after a few problems I switched to Host Gator in the US and found that my website was faster and cheaper!
Often people buy hosting from America where it is cheaper, however this cheap hosting may leave you with a slower website and less support. They also can't sell you your .com.au domain. I've found Host Gator to be very good. I also have a few clients on BlueHost and have had no issues with them. GoDaddy is also cheap and popular however they have a bad reputation among some webmaster and my own experience with them was not that good.
Many small businesses only need a basic plan to get started. And it is normally easy to upgrade if required. So don't get sucked into paying extra for a "business" package when you don't need it. Just make sure your plan includes what you need to build your website (type of server, database, disk space) and all your email address needs.
If you're looking to create a full blown shopping cart then you may want to consider BigCommerce for your hosting and Content Management System (CMS). I find it one of the best shopping cart systems around so have become a partner and active member of their community. Several of my clients are using the system and have found it very powerful.
I also have a few websites in the UK. I'm currently using Pipe Ten who are from my home town, so they have to be good. I have also used eUKHost in the past and found their services fine.
Onto the domain name tips...
You only Need One
I often see people buying up lots of domains thinking it will help them do well with search engines. This is not the case!
If you have multiple domains, the only way they can help with search engines is if they each relate to their own unique website. Pointing a lot of domains to the same website adds no value as the search engines just flag them as duplicates and ignore all but the one they deem to be the original.
A common tactic is to buy what is called exact match domains. That is, domain names that exactly match a set of searched for keywords. From experience this technique does work (even though Google have repeatedly said they are working on minimising its effect). Each exact match domain tends to host a very simple website that contains content that also targets the chosen keywords.
There are sometimes other reasons to acquire multiple domains such as stopping your competition from using them or when going international.
Deciding on your preferred Top Level Domain (TLD)
The TLD of a domain is the end part of a domain name that indicates the category the website is in and sometimes the country.
For an Australian business I would recommend they use .com.au or .com. If the business is not international then the .com.au may be better as it reinforces the fact the business and website are from Australia.
If you have trouble getting those TLDs then you can opt for something like .net. The minor downside is that people tend to still type in .com and may end up with your competitor!
be careful if you decide to use US hosting and a .com domain. Search Engines will assume your website is American and not Australian. This may effect how well you do in the search results.
Keep it Short
Long domain names can be hard to remember and even harder to type in correctly. So keep it short.
I would recommend trying to keeping it down to 24 characters or less. This is partially because this is the limit that Google AdWords has when adding Mobile Ads.
Brand your domain - Use you Business Name
The best domain name is one that reflects the name of the business. It helps brand awareness and creates a professional image. Remember that your domain name should also be setup as your email address, placed on business cards and used in advertising.
What would a client try if they had to guess what your domain was? That will be the best possible domain to get.
Think of different ways you can write your business name. E.g abbreviated forms like IBM.com.
Consider Keywords
Words used in your domain name can boost your relevance in search results. If you have done some Keyword Research you should know which words can help you the most.
It's great if your business name contains those keywords. If not, and your business name is not too long, consider adding a keyword to the end. E.g. IBMComputers.com
If you are not worried about branding, then you may want to use the best keywords in your domain name. Look at mine ;-)
Still can't get the one you want? Dash!
If its hard to get the domain you want, consider adding dashes/hyphens between the words.
Try and avoid the hyphen option if possible. People tend to forget it and its hard to explain. On a plus side they do remove ambiguity about what the domain name means.
Do they get it?
Consider the scenario where you tell someone your domain name, or you use it in a radio advert. Will the recipient be able to remember it and type it in correctly?
Is it easy to spell? Some businesses register multiple domains just to capture all the typos people can make!
Shorts
If your domain name is long and hard to enter then consider buying a short version of your domain and Redirecting it to your main domain. I have min.to/seo . This technique means the visitor still ends up on your real website, but only have to type in a small one.
(QRCode Tip: if you use QRCodes then this same trick can help you create codes that are easier to scan and track).
Is it Rude?
An example here will help. I'm a regular contributor to experts-exchange.com. A while back they added the hyphen to their domain after they realised how their old domain could be read: ExpertSexChange.com
So check that there are no alternate meanings to your domain!
Have your website Re-enforce your name
To help visitors remember your website and its domain name, make sure the website is also branded to re-enforce your chosen name. Try and use exactly the same name in the titles and headings of the website and your other forms of marketing.
Now go get it!
There's lots of things to consider and you may have to try many names before you find one available and that feels right. If you are struggling then post a comment below and let the community help you. If you have more ideas, then share them as well.
Good luck.